A NEW FRONTIER IN GOVERNANCE
In Sögur, Participants are the sovereign. Accordingly, Sögur's governance is designed to facilitate genuine representation of Participants and to generate long-term success for the currency. This is achieved through a multi-branch checks and balances governance structure.
HOLDERS ARE SOVEREIGN
Token holders control Sögur. SGR functions both as a currency and the governance token of the Sögur community.
Holders elect the Executive Council, the top management function responsible for promoting the currency's success and for overseeing its functioning 24/7. Holders also have on-chain veto power for any changes to the monetary model and hold other direct powers.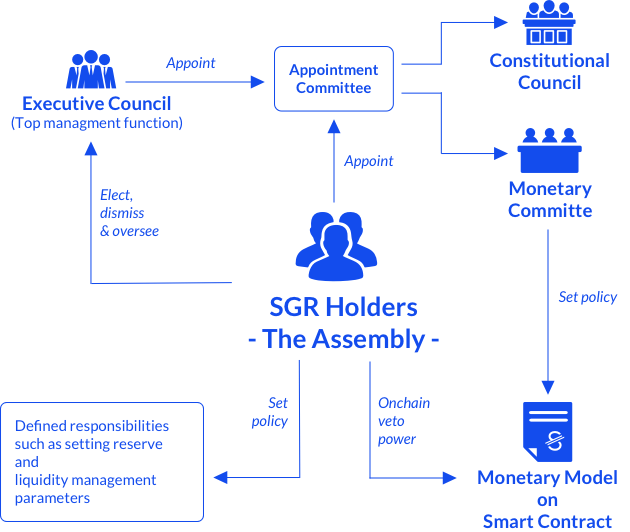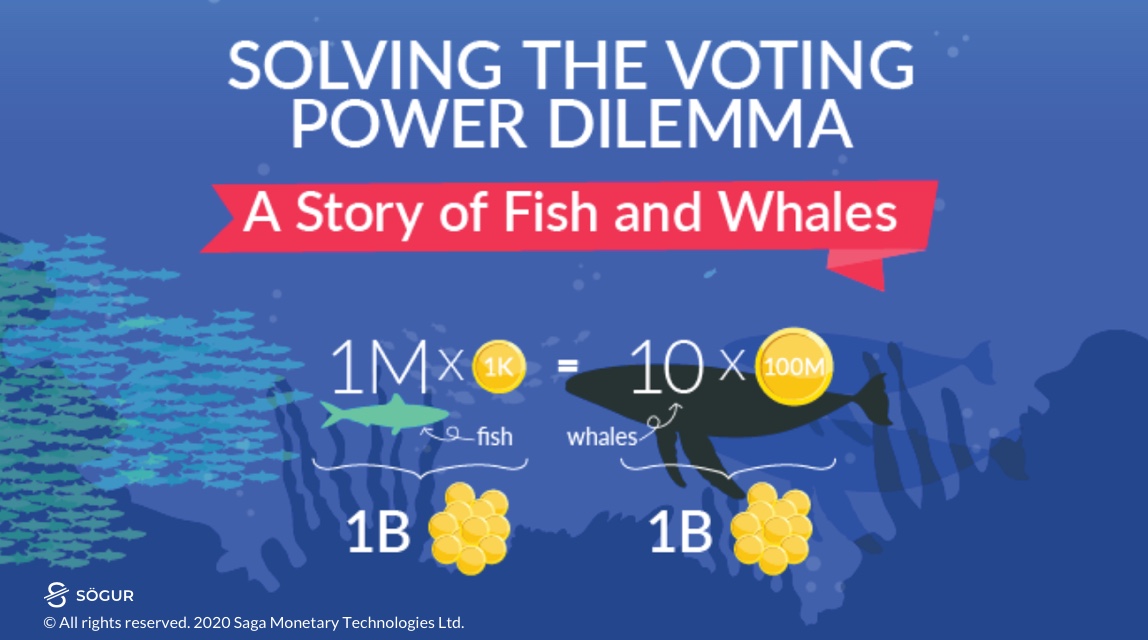 DEMOCONOMY VOTING
Democonomy Voting, developed by Sögur, ensures that both large and small holders are fairly represented. It does so by dynamically balancing between the 'one holder – one vote' and the 'one token – one vote' voting methods. Thus, it provides incentives for growth of both Sögur's economy and its network of holders. Learn more
COMBINING BLOCKCHAIN WITH EXPERT-BASED REAL TIME DECISION MAKING
Dramatic social changes occurring globally necessitate updated governance solutions. Sögur's governance model combines elements from democratic, decentralized and corporate governance for assuring SGR's success, while maintaining holders' control over the project. Learn more
GOVERNANCE MILESTONES
The governance model is implemented in a series of intermediary steps. Currently, we are in Phase 2 which includes the formation of the holders' Assembly together with a dedicated voting system. The Assembly is responsible for electing, dismissing and overseeing the Executive Council, as well as for aspects of reserve and liquidity management.

Resources
Sögur's Participants require a governance system for exercising their sovereignty over Sögur. This document presents the intended governance model and describes its seven main features. It also presents the fundamental principles and values that are the basis of the model's design.
---
The provisional constitution states Sögur's essential framework of rules and norms. It delineates how the Participants' sovereignty is legally and structurally established. The Provisional Constitution will serve Sögur until a permanent constitution is ratified by Sögur's Assembly - a governance entity defined in this document and scheduled to be set up within 24 months following the launch of the Sögur currency.